Audiobus: Use your music apps together.
What is Audiobus? — Audiobus is an award-winning music app for iPhone and iPad which lets you use your other music apps together. Chain effects on your favourite synth, run the output of apps or Audio Units into an app like GarageBand or Loopy, or select a different audio interface output for each app. Route MIDI between apps — drive a synth from a MIDI sequencer, or add an arpeggiator to your MIDI keyboard — or sync with your external MIDI gear. And control your entire setup from a MIDI controller.
Download on the App Store
Audiobus is the app that makes the rest of your setup better.
GlitchBreaks emulator in AUM with GlitchCore and Mozaic
In one of the GlitchCore threads I had talked and about a GlitchBreaks emulator, and had posted one but it was an AUM session from a beta, which means it didn't work for people. I apologize and I have rebuilt this in the App Store version of AUM
Here is a video of it in action, of course you will need your own sound sources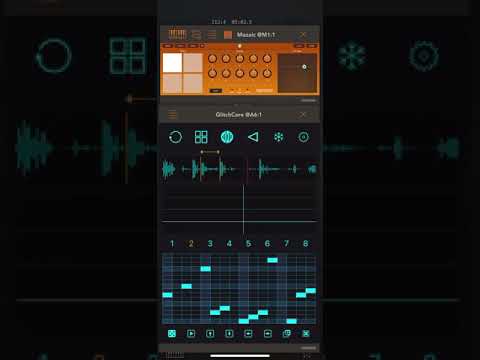 The basic premise is that each pad explicitly solos a channel letting you juggle breakbeats. It is especially fun with the Sequencer in GlitchCore set to mutate next pattern.