Audiobus: Use your music apps together.
What is Audiobus? — Audiobus is an award-winning music app for iPhone and iPad which lets you use your other music apps together. Chain effects on your favourite synth, run the output of apps or Audio Units into an app like GarageBand or Loopy, or select a different audio interface output for each app. Route MIDI between apps — drive a synth from a MIDI sequencer, or add an arpeggiator to your MIDI keyboard — or sync with your external MIDI gear. And control your entire setup from a MIDI controller.
Download on the App Store
Audiobus is the app that makes the rest of your setup better.
Scatterbrain : Multi-Out Audio Effect
Surprise release!
Scatterbrain is one of the first (the first?) multi-out effect plugins. It rhythmically chops up incoming audio and distributes it over multiple (max. 4) outputs.
You can sequence the order of the distribution and/or leave it up to chance. Additionally you can let it randomly trigger slice and stutter effects for an additional bit of chaos. (Put simply this lets you create an Effectrix-like effect but using your own effect plugins).
If that sounds abstract, check out this video for a hands-on demonstration: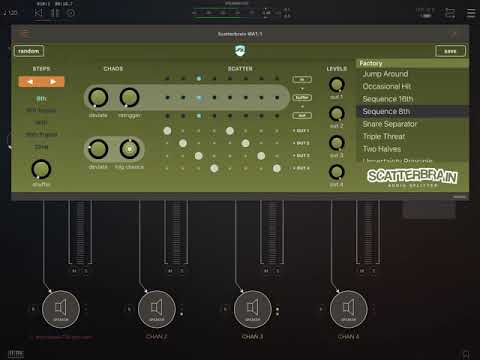 For the multi-out effect you obviously need a host that supports multiple outputs for effects plugins (have you updated AUM yet, today?). In 'normal' hosts the plugin will also work, but only output audio on channel 1.
Find it on the App Store today:
https://apps.apple.com/app/id1498199681