Audiobus: Use your music apps together.
What is Audiobus? — Audiobus is an award-winning music app for iPhone and iPad which lets you use your other music apps together. Chain effects on your favourite synth, run the output of apps or Audio Units into an app like GarageBand or Loopy, or select a different audio interface output for each app. Route MIDI between apps — drive a synth from a MIDI sequencer, or add an arpeggiator to your MIDI keyboard — or sync with your external MIDI gear. And control your entire setup from a MIDI controller.
Download on the App Store
Audiobus is the app that makes the rest of your setup better.
RC500-esque
In response to a request from @xmortenx I designed a Loopy Pro template per his specs (which I am told are reminiscent of a Boss RC500 but I don't have one—do I am not sure).
It has two loops that are mutually exclusive and can have entirely independent lengths. It is set up to not use a metronome or quantization so that you can preserve your feel timing.
Each loop has a trigger button that cycles through its functions. Tap to start recording , tap to end, tap to start overdubbing, tap to end.
If one loop is playing and you trigger the other loop, the current loop will finish playing before the new loop's action is performed. It also has buttons to peel (undo) and replace (redo) overdubs.
Here it is in action: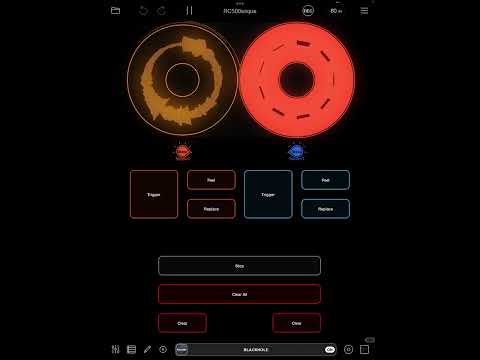 The Loopy Pro template for this is found at