Audiobus: Use your music apps together.
What is Audiobus? — Audiobus is an award-winning music app for iPhone and iPad which lets you use your other music apps together. Chain effects on your favourite synth, run the output of apps or Audio Units into an app like GarageBand or Loopy, or select a different audio interface output for each app. Route MIDI between apps — drive a synth from a MIDI sequencer, or add an arpeggiator to your MIDI keyboard — or sync with your external MIDI gear. And control your entire setup from a MIDI controller.
Download on the App Store
Audiobus is the app that makes the rest of your setup better.
Drambo drumkit midi loops and audio fx automation in Loopy
Loopy is insanely powerful. It's crazy how flexible it is.
I was trying out a way to quickly record drums in Loopy so I made some controls to record either to an audio loop or a Drambo sequence. This is specifically to finger drum.
Why not do it directly in Drambo?. I can't stand the small auv3 windows… 🤦🏻 I feel like doing it from Loopy it feels more integrated and inmediate. Also a lot better for live scenario or if using a hardware controller. There's also a kit selector that loads different presets.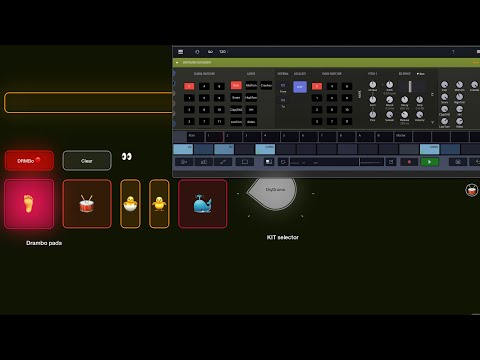 Some comments:
Drambo parameters are not exposed to Loopy, which makes sense given the modular aspect, so I did the mappings via midi CC which I learned in Drambo.
For notes to record properly I found I had to send ON (press -127) and OFF messages (release - 0). - Same for the "undo" command to clear the sequence. BTW, I couldn't find a way to map a specific "clear" command, there doesn't seem to be one in Drambo.