Audiobus: Use your music apps together.
What is Audiobus? — Audiobus is an award-winning music app for iPhone and iPad which lets you use your other music apps together. Chain effects on your favourite synth, run the output of apps or Audio Units into an app like GarageBand or Loopy, or select a different audio interface output for each app. Route MIDI between apps — drive a synth from a MIDI sequencer, or add an arpeggiator to your MIDI keyboard — or sync with your external MIDI gear. And control your entire setup from a MIDI controller.
Download on the App Store
Audiobus is the app that makes the rest of your setup better.
4 Sine Wave Oscillator Synth, "Sines" for Desktop from Cherry Audio
Cherry Audio's new synth is called "Sines" and here's their description:
"Sines is a sensational and innovative original polyphonic synthesizer. Employing four sine-wave oscillators, Sines utilizes diverse waveshaping methods to bend these pure waveforms into infinitely variable and complex shapes. When combined with its wide-ranging modulation capabilities and effects, users can create a distinctive array of unique timbres ranging from the sublime to sizzling."
The first sounds I heard sounded very thin and harsh, but I downloaded the demo for macOS and was impressed with the range this one offers. I recommend at least getting the demo and hearing it for yourself. It's a bit like a blend of both an Oberheim and a Moog synth. It's very interesting.
https://cherryaudio.com/products/sines
Here's a demo from Tim Shoebridge: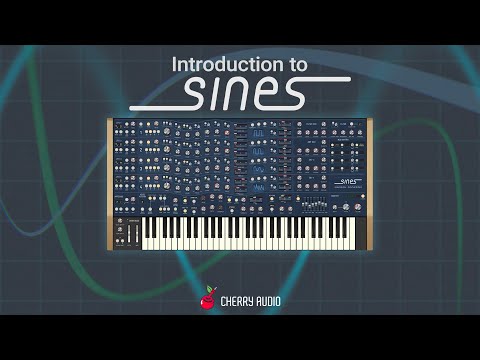 And as always, I have no financial arrangement or deal with Cherry Audio to promote their software... I just happen to like most of it.