Audiobus: Use your music apps together.
What is Audiobus? — Audiobus is an award-winning music app for iPhone and iPad which lets you use your other music apps together. Chain effects on your favourite synth, run the output of apps or Audio Units into an app like GarageBand or Loopy, or select a different audio interface output for each app. Route MIDI between apps — drive a synth from a MIDI sequencer, or add an arpeggiator to your MIDI keyboard — or sync with your external MIDI gear. And control your entire setup from a MIDI controller.
Download on the App Store
Audiobus is the app that makes the rest of your setup better.
Gestrument Pro - Setting Up & Getting Started - Walkthrough & Tutorial for the iPad
This is a getting started guide for the incredibly great Gestrument Pro.
This app is one of the most elegant ways to use the iPad for making music.
It arrived around three years ago in the Pro version and was an instant hit at the time.
However, since then it has seemed to decline and there are hardly any videos on YouTube for this app anymore.
So I just wanted to revisit this amazing and fun app.
Gestrument Pro works great in standalone and has a load of great sounds already built right in, I am using the Standalone version throughout this video.
It does, however also support IAA and is great when paired with AUM.
Personally, I think that it still has much to offer iOS musicians, even today, and if you are new to iOS music production then you may not have even heard about Gestrument Pro.
The pricing is also really good, you download a free version, and see if you like it.
Then you have the option of buying the app outright for £16.99 or buying a subscription for £1.49 per month.
The app can be super deep or super simple, you can literally create a nice piece of music with a few minutes.
I would like to say that I was not asked by the dev to make the video, I was just playing with it a few days ago for the first time in ages and was surprised at how much fun it was.
I truly hope you enjoy the video and find the time to take Gestruemtn for a spin.
It would also be cool to hear from any other people here who still use it.
One more thing, you can also easily share your projects too via iCloud.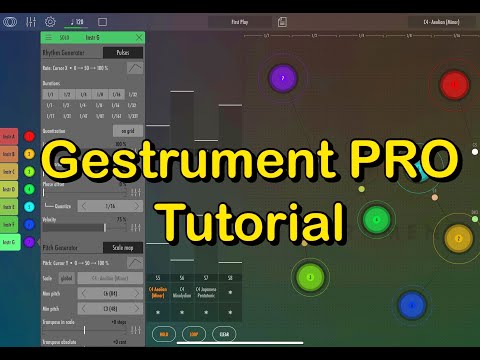 You can check it out here at the App Store.
https://apps.apple.com/gb/app/gestrument-pro/id1105890031