Audiobus: Use your music apps together.
What is Audiobus? — Audiobus is an award-winning music app for iPhone and iPad which lets you use your other music apps together. Chain effects on your favourite synth, run the output of apps or Audio Units into an app like GarageBand or Loopy, or select a different audio interface output for each app. Route MIDI between apps — drive a synth from a MIDI sequencer, or add an arpeggiator to your MIDI keyboard — or sync with your external MIDI gear. And control your entire setup from a MIDI controller.
Download on the App Store
Audiobus is the app that makes the rest of your setup better.
LK and AUM: constant crashing
I recently bought LK with all the IAPs. I like it a lot (well, except Chorder), but it crashes all the time in AUM after saving, especially after changing the parameters on the controller (e.g. to control volume & pan parameters on other tracks). That invariable makes it crash. Sometimes I can change the parameters in the controller and save the project once or twice, but very rarely I can save it more than three times before it crashes (and of course, all my settings disappear, having to start all over again). This is an example of LK crashing when saving, after setting the controller to control the volume of other tracks: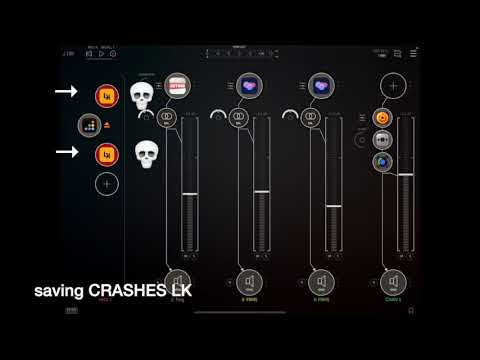 This also happens to me when saving any other instance (after fiddling with the matrix for example), but seems to be particularly bad after manipulating the midi controller.
Does this happen to other people? I do not think this is related to the apps I have in AUM, it rather seems to be an issue with LK.
As I said before, I love it, but having it crash constantly is frustrating