Audiobus: Use your music apps together.
What is Audiobus? — Audiobus is an award-winning music app for iPhone and iPad which lets you use your other music apps together. Chain effects on your favourite synth, run the output of apps or Audio Units into an app like GarageBand or Loopy, or select a different audio interface output for each app. Route MIDI between apps — drive a synth from a MIDI sequencer, or add an arpeggiator to your MIDI keyboard — or sync with your external MIDI gear. And control your entire setup from a MIDI controller.
Download on the App Store
Audiobus is the app that makes the rest of your setup better.
Can someone help me demystify MiRack/the intricate details of modular synthesis?
Okay, so I was originally going to post this in my other thread here.
https://forum.audiob.us/discussion/50269/my-current-journey-for-fulfilling-my-lust-for-ambient-soundscape-creation#latest
But I've reached the point with this post that I decided to split it off into its own separate thread.
In short - I am utterly baffled and confused as to how to create modular synthesis with MiRack.
I'm not complaining about MiRack, as it's an amazing app. Rather, I want to learn how to use it to create generative music and drones.
A bit of background - I've studied basic modular synthesis in college and learned how to create a subtractive synth patch with the Arp 2500. (Not Arp 2600, Arp 2500. https://www.vintagesynth.com/arp/2500.php )
I've also had fun in SunVox, in Caustic with its modular synth, in Drambo, and in the predecessor app to Wotja (the name of which escapes me).
So I watched this video here...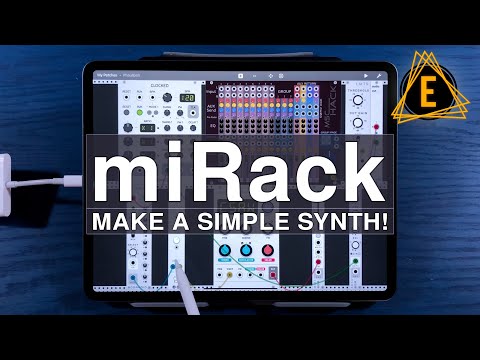 ...and I'm even more lost now than ever before. I can't for the life of me explain what isn't clicking with me. Maybe I don't understand what MIDI clocks do, or how the connections work in this particular modular environment. Or maybe it's intimidating to me? Or maybe the Arp 2500 was a good way to learn the bare bones basics of how modular synthesis works, but wasn't enough of a deep dive? (Then again, I never got on with Reaktor back when I had Komplete 4 or 5 or 6 back in 2007. So maybe that's what's throwing me for a loop.)
Does anyone know of any good resources, tutorial videos, and such that can demystify MiRack for me? Or on a more macro scale - the intricate details of modular synthesis I may not have learned in a shortform way an idiot like me can grasp and understand?
Thanks mates.