Audiobus: Use your music apps together.
What is Audiobus? — Audiobus is an award-winning music app for iPhone and iPad which lets you use your other music apps together. Chain effects on your favourite synth, run the output of apps or Audio Units into an app like GarageBand or Loopy, or select a different audio interface output for each app. Route MIDI between apps — drive a synth from a MIDI sequencer, or add an arpeggiator to your MIDI keyboard — or sync with your external MIDI gear. And control your entire setup from a MIDI controller.
Download on the App Store
Audiobus is the app that makes the rest of your setup better.
Using Loopy Pro as a DAW? With Midi sequencing? And Automation?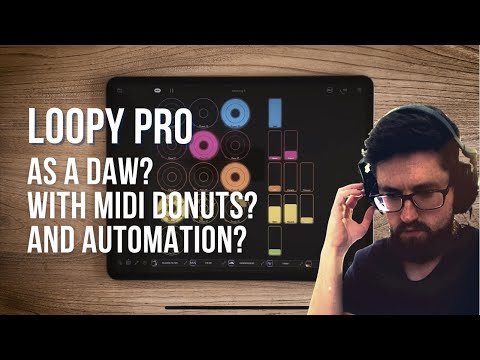 I've been looking into the possibility of using Loopy Pro as my main DAW. For me it's basically just missing midi donuts, timeline automation, and multi out for AU audio sources.
So I've been working with 'dummy' donuts, a bit like dummy clips in Ableton Live (or so I'm told! I've never used Ableton myself). I'm using their play and stop follow actions to launch/stop and change pattern on 3 different atom 2 instances.
The blue donuts use a similar system, but are triggering hammerhead patterns for the drums.
For automation, I setup slider widgets for anything I wanted to automate, then used the same follow actions on the donuts to set initial values, using the ramp feature to slide to the values I want. It's a little limited, but the action queuing system in Loopy allows you to do some fairly intricate automations.
All I do is press play at the start of this video. The Loopy timeline sequencer does the rest. By attaching everything to donuts, you can then use the sequencer to arrange your song. This is a very simple track, but with more dummy donuts and tracks you could do a lot more.