Audiobus: Use your music apps together.
What is Audiobus? — Audiobus is an award-winning music app for iPhone and iPad which lets you use your other music apps together. Chain effects on your favourite synth, run the output of apps or Audio Units into an app like GarageBand or Loopy, or select a different audio interface output for each app. Route MIDI between apps — drive a synth from a MIDI sequencer, or add an arpeggiator to your MIDI keyboard — or sync with your external MIDI gear. And control your entire setup from a MIDI controller.
Download on the App Store
Audiobus is the app that makes the rest of your setup better.
Loopy Pro is here!
Loopy Pro is a live-looper. And a sampler. And a sequencer. And a very capable AUv3 Audio Unit host. And a DAW. And an AUv3 Audio Unit.
You get the idea. Loopy Pro is deep. But it's also designed to be friendly, and a great deal of fun.
You can set up Loopy Pro to work however you do, with features like hands-free looping with count-in, count-out and automatic loop detection; or "free" looping, where you can choose on-the-fly how long to make loops. There's even retrospective recording, where you can lock in a loop after the fact.
There's extensive MIDI controller support, including built-in support for the Launchpad and the APC40 mk2, and effortless MIDI Learn for setting up your controllers.
You can also drag-and-drop audio straight onto loops in Loopy Pro, with sophisticated tempo and pitch adjustments, and use Loopy Pro as a clip launcher, with all kinds of options for song sectioning.
The built-in mixer lets you set up insert and send effects for every channel in your project, and load AUv3 Audio Unit instruments, effects, and MIDI sequencers.
And there's a built-in sequencer, for arranging songs, and even performing them live, totally automated and hands-free.
There's also a great deal still to come.
So, what are you reading this for? Go take Loopy Pro for a spin – there's a 7-day free trial just waiting for you.
https://apps.apple.com/app/loopy-pro-looper-daw-sampler/id1492670451
Have fun!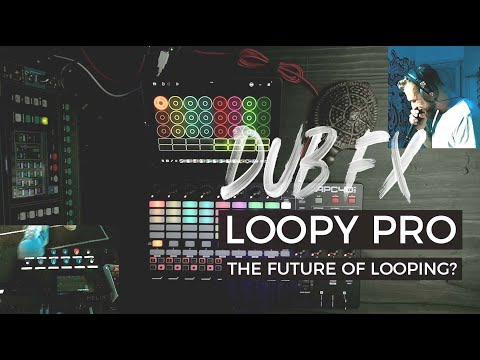 See also JP's rather brilliant tutorial: