Audiobus: Use your music apps together.
What is Audiobus? — Audiobus is an award-winning music app for iPhone and iPad which lets you use your other music apps together. Chain effects on your favourite synth, run the output of apps or Audio Units into an app like GarageBand or Loopy, or select a different audio interface output for each app. Route MIDI between apps — drive a synth from a MIDI sequencer, or add an arpeggiator to your MIDI keyboard — or sync with your external MIDI gear. And control your entire setup from a MIDI controller.
Download on the App Store
Audiobus is the app that makes the rest of your setup better.
SynthMaster 2 for iPad arrives: "no compromise" port of SynthMaster 2.9 VST/AU/AAX synth
Hi guys,
Once Apple approves our latest beta build (v0.9.5), we will be adding those of you who contacted us to be on our beta testers list for SynthMaster 2 iOS.
The app/auv3 currently supports 7 different screen resolutions:
iPad 9.7/10.5 inch: Standalone, AUv3 regular, AUv3 maximixed
iPad Pro 11 inch: Standalone (AUv3 regular/maximized are currently missing)
iPad Pro 12.9 inch: Standalone, AUv3 regular, AUv3 maximixed
Here's my introduction video series for SynthMaster 2 iOS (once we have the final version we will reshoot those videos):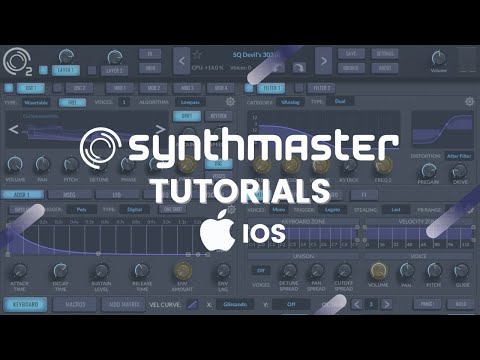 Topic covered in this tutorial:
0:07 Introduction
0:34 Real-time visual feedback explained
1:15 Changing the current user interface skin
2:01 Enabling MIDI input from MIDI devices
2:17 Macro controls
2:24 Changing SynthMaster parameter values via MIDI Learn
4:07 Adding/removing presets to/from user's favourites list
4:26 Preset browser search filters
4:54 Desktop presets upgrade IAP
5:25 Downloading desktop presets and expansions for registered SynthMaster 2.x desktop users
6:05 Downloading presets from public user library
6:36 Assigning presets to MIDI Banks and Programs
7:09 Managing MIDI Banks and Programs
7:19 Changing presets by sending MIDI Bank Change & Program Change messages from MIDI sources
I will continue adding videos to this playlist to explain the synth in more detail.
Cheers
Bulent