Audiobus: Use your music apps together.
What is Audiobus? — Audiobus is an award-winning music app for iPhone and iPad which lets you use your other music apps together. Chain effects on your favourite synth, run the output of apps or Audio Units into an app like GarageBand or Loopy, or select a different audio interface output for each app. Route MIDI between apps — drive a synth from a MIDI sequencer, or add an arpeggiator to your MIDI keyboard — or sync with your external MIDI gear. And control your entire setup from a MIDI controller.
Download on the App Store
Audiobus is the app that makes the rest of your setup better.
Bleass Phaser Release and YouTube Walkthrough (Giveaway: 4 of ANY Bleass FX Apps)
Bleass Phaser Release and Premiere Walkthrough May 5th 10am CET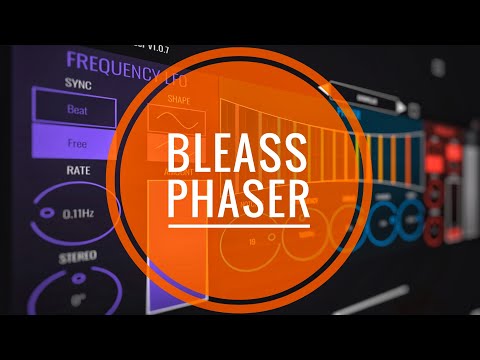 Recently Bleass have just released one fantastic app with fantastic UI after another, and the new Bleass Phaser is no exception. Released for iOS (iPad/iPhone) at an intro price of $4.99, it is well worth snapping up. Phasers are useful for all kinds of music, whether pop, rock, psychedelic or avant garde, and in this thorough walkthrough tutorial you will hear it on drums, percussion, synths, granular noise and guitar. As well as demoing the presets, you get a full explanation of the UI and features as well as lots of ideas for creative uses. I finish up with a quick review mention of what I like about it.
I have 4 copies of any Bleass FX app (FX apps only, not synth or groovebox) to give away to subscribers to the channel. Details of how to win are in the pinned comment at the top of the Youtube comments section, please read them carefully. I have an entire playlist of Bleass apps I have reviewed, go check it out on my channel.
Winners will be announced 2-3 days after release of the video. Good luck!
Big thanks to Ian Ruddock @rud who provided the guitar loop I use in this video. He is a guitarist, harpist and iOS musician, open to offers of collaboration, and can be contacted at [email protected]
This video has timestamps when viewed in Youtube.
As always folks, if you find this useful, consider taking a second to grace it with your thumbs-up.
Please remember to support the channel by not watching behind an adblocker, by donating by PayPal if it is within your means, and maybe by watching the odd ad or two. Channels like this are very useful but very niche, and so depend massively on viewer support. Huge thanks to all the channel regulars for your great support and appreciation of my work 🙏 - more people have been watching ads and I can actually see that the YouTube ad revenue is increasing. Big thanks folks!
My instagram
https://instagram.com/gavinskistutorials
My twitter
https://twitter.com/gavinski_s?s=09
If you enjoy the channel and would like to show your appreciation, my PalPal is
https://paypal.me/GavinskisTutorials
PayPal donations make a huge difference to how sustainable my continuing to do this channel is, as ad revenue is so tiny in our small iOS niche, so I am very happy when people support me in this way, and will certainly take the time to email you to thank you personally if you do 🙏.
Store link and description
https://apps.apple.com/us/app/bleass-phaser/id1560652146
BLEASS Phaser is an all-encompassing phasing effect which offers a vast array of sonic possibilities, from resonant swirls to stunning atmospheric stereo sounds.
A colorful and magnetizing Spectrum View coincides with the notch frequencies, and brings an instantly pleasing sonic and optic effect into the sound design process.
Popularised by everyone from Queen to Chromeo, Jean-Michel Jarre to Tame Impala, the phaser effect is great for many instruments such as synthesizer, guitar, bass, and vocals.
No modulation collection would be complete without a phaser. This is why BLEASS Phaser delivers at the same time all of the classic phasing effects through 40 refined presets as well as a large pull of stereo functionalities and interweaving modulations thanks to its frequency & spread LFOs, as well as a precise control over the stereo.
TECHNICAL SPECIFICATIONS:
The phaser effect processes the signal through successive all-pass filters and adds the resulting signal to the original to create phase cancellation around certain frequencies (notches). A feedback loop reinjects a certain amount of the processed signal back into the filters chain.
PHASER stage:
Notches: sets the number of all-pass filters, adding a filter creates a new notch in the signal's spectrum. Notches count can go from 1 to 24.

Frequency: sets the center frequency of the phaser (the frequency of the all-pass filters).

Spread: sets the spacing between the notches by changing the Q factor of the filters.

Feedback: sets the amount of processed signal reinjected into the filters chain. Feedback can be negative.

Feedback Color: sets the frequency of a low-pass filter applied to the feedback signal.

Spectrum: a spectrum view representing the estimated frequency position of the notches. Touching this view will adjust the center frequency.
FREQUENCY LFO & SPREAD LFO stages:
Sine LFOs that modulate the center frequency and the spread parameter of the phaser.
Sync: sets the sync state between BEAT (synchronised with the host transport and tempo) and FREE.

Shape: sets the shape of the LFO between Sine and Triangle.

Rate: sets the LFO rate in Hertz if Sync is set to Free or in fraction of a bar if Sync is set to Beat.

Phase: sets the phase difference between left and right channels.

Amount: sets the amplitude of the LFO.
MIX stage:
Depth: sets the mix between the dry input signal and the signal processed through the filters. When Depth is set at 100%, both signals are at the same level.
Size
16.8 MB
Category
Music
Compatibility
iPhone
Requires iOS 11.0 or later.
iPad
Requires iPadOS 11.0 or later.
iPod touch
Requires iOS 11.0 or later.