Audiobus: Use your music apps together.
What is Audiobus? — Audiobus is an award-winning music app for iPhone and iPad which lets you use your other music apps together. Chain effects on your favourite synth, run the output of apps or Audio Units into an app like GarageBand or Loopy, or select a different audio interface output for each app. Route MIDI between apps — drive a synth from a MIDI sequencer, or add an arpeggiator to your MIDI keyboard — or sync with your external MIDI gear. And control your entire setup from a MIDI controller.
Download on the App Store
Audiobus is the app that makes the rest of your setup better.
Great iOS Delays Video Review / Demo Pt 1 ($200+ of apps to give away. WINNERS ANNOUNCED!)
Great iOS Delays Video Review / Demo Pt 1 ($200+ of apps to give away!)
Premiering very shortly. Massive Giveaway!
If you ask people what their favourite FX app is, they regularly answer 'delay'. Threads asking 'What is the best delay app for iOS?' or 'What is your favourite iOS delay AUv3?' often appear here in the Audiobus Forum. So this is the first of a 2 part video series looking at some of my favourite iOS delays (all available for iPad, if you are an iPhone only user you may need to check compatibility), comparing them, demoing them, and focusing on what makes each delay distinctive.
I have an absolutely huge huge giveaway for this video, giving away literally hundreds of dollars worth of free apps from big developers like Eventide, IK Multimedia, Klevgrand and SugarBytes, as well as many from other smaller and well loved indie iOS devs. See the pinned comment at the top of the Youtube comments section for details. Please remember to help me out by not watching this behind an ad blocker, giving it a thumbs-up etc, and if you are feeling extra nice, watching some ads! Thanks for all your support everyone, especially to those who are generous enough to support with PayPal donations - they are much appreciated. If you are watching this after the event, make sure you subscribe so you don't miss out on future vids. I usually have free copies of apps to give away.🤞
Don't forget you can follow me on Twitter at @gavinski_s. If you want to help me out, a tweet helping people find out about this video would be great!
List of apps available and how many copies I have in brackets after - as you can see, this is HUGE!:
Ultratap (1)
MixBox (1)
Reelbus (2)
AU3FX: Dub (2)
Koala FX (3)
Tape Pro (2)
Modley (1)
Looperator (1)
Micropitch (1)
TTAP (2)
Velvet Machine (2)
Bleass Delay (2)
Classic FX (2)
Mela 2 synth (2)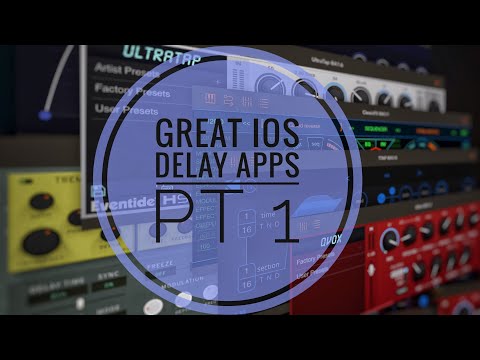 There are a total of 20 apps demoed in this video. You can see exactly the list of all apps in the timestamps that are available when viewed in Youtube.