Audiobus: Use your music apps together.
What is Audiobus? — Audiobus is an award-winning music app for iPhone and iPad which lets you use your other music apps together. Chain effects on your favourite synth, run the output of apps or Audio Units into an app like GarageBand or Loopy, or select a different audio interface output for each app. Route MIDI between apps — drive a synth from a MIDI sequencer, or add an arpeggiator to your MIDI keyboard — or sync with your external MIDI gear. And control your entire setup from a MIDI controller.
Download on the App Store
Audiobus is the app that makes the rest of your setup better.
Atom 2 video walkthrough - biggest release of 2021 - winners announced
Atom 2 video walkthrough coming very very soon - biggest release of 2021 - 5 free copies to give away
Victor Porof has spent about a year working on this update to Atom, and this is by far the most hotly anticipated iOS app of 2021 in any category. This is probably the most full-featured piano roll & midi sequencer on iOS bar none. But it is also a powerful clip launcher with deep integration with AUM and with controllers like the Launchpad and others. You can even script it to customize the interface or controller functionality to suit your needs. For people using hosts like AUM, which lacks a native piano roll, this will be a game changer, but even those using more traditional daws may want to use Atom 2 instead of their daws own piano roll. Host compatibility details can be found below, read carefully to check if your daw is supported.
This review video is a highly detailed walkthrough demo of almost all the main features and will show you why the app is so powerful. After watching this tutorial you will have a very good idea of how to use the app. You will also know clearly what is currently missing from the app and what is planned to be added.
Details of how to win one of 5 free copies of either Atom 2 or Midi Tools by the same developer are in the pinned Youtube comment.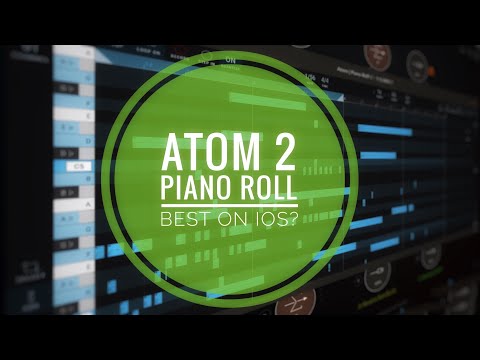 This video has timestamps when viewed in YouTube.
Please remember, folks, that although we live in an age of an abundance of free online content, this content is produced by flesh and blood people - people like me and you. So you can make the choice to help out the channel by not watching these behind an ad blocker, as I am sure you do not want to exploit your dear old Gavinski any more than YouTube is already exploiting him 😉. A lot of viewers ask how Youtube ad revenue works - basically, if you skip ads before 30 seconds is up, or without clicking on a link, the creator is unlikely to get any remuneration from Youtube. So when you view vids by Youtubers you like, watching at least one or two ads is a good way to support us. Thank you!
You can follow me on Twitter at @gavinski_s. I mostly only post music-related stuff. Also, if you enjoy the channel and would like to show your appreciation, my PalPal is
https://paypal.me/GavinskisTutorials I am very happy when people support me in this way, and will certainly take the time to email you to thank you personally if you do 🙏.