Audiobus: Use your music apps together.
What is Audiobus? — Audiobus is an award-winning music app for iPhone and iPad which lets you use your other music apps together. Chain effects on your favourite synth, run the output of apps or Audio Units into an app like GarageBand or Loopy, or select a different audio interface output for each app. Route MIDI between apps — drive a synth from a MIDI sequencer, or add an arpeggiator to your MIDI keyboard — or sync with your external MIDI gear. And control your entire setup from a MIDI controller.
Download on the App Store
Audiobus is the app that makes the rest of your setup better.
Virsyn BandDelay Walkthrough Video - A very unique and underrated delay! (winners announced)
Virsyn BandDelay Walkthrough Video - 5 FREE copies to give away!
This is, I think, a very special and underrated delay. It isn't your average bread and butter delay, but it can be quite magical on the right sounds. If watching in the first 2 days of release of this video, you have a chance to win one of 5 copies of this app. Details are in the pinned comment at the top of the YouTube comments section.
App Store Description:
The multi-band delay BandDelay is an exciting tool for sound design and loop manipulation in realtime. In contrast to common delay processors BandDelay splits the frequency spectrum of the input signal into 27 bands and applies a separate delay unit to each band. The delay times can be synchronised to the host tempo generating nearly infinite rhythmical and sonic variations of the input signal. For each of the delay bands you can specify the delay time, the level and the feedback amount separately. These parameter changes can even be automised in realtime for glitch free rhythmical morphings. A few high level parameters let you change the delay times and feedbacks of all delays with the turn of a single knob.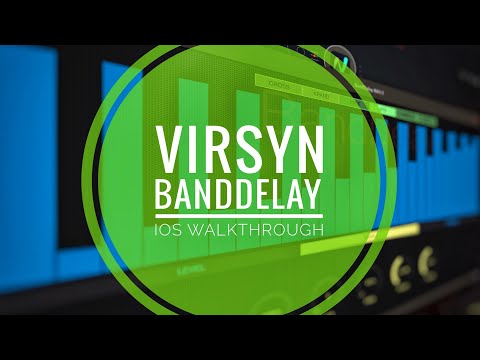 If you enjoy this and find it useful, please help me out folks by remembering to give it a thumbs-up, cheers!