Audiobus: Use your music apps together.
What is Audiobus? — Audiobus is an award-winning music app for iPhone and iPad which lets you use your other music apps together. Chain effects on your favourite synth, run the output of apps or Audio Units into an app like GarageBand or Loopy, or select a different audio interface output for each app. Route MIDI between apps — drive a synth from a MIDI sequencer, or add an arpeggiator to your MIDI keyboard — or sync with your external MIDI gear. And control your entire setup from a MIDI controller.
Download on the App Store
Audiobus is the app that makes the rest of your setup better.
Maschine+ iPad Combo Playground : Contribute Tracks
Greetings. I know that a few of us are venturing into the Maschine+ world, and I thought it might be a good thing to start a thread independent of the comparison one already up.
So, to start things off, here are 2 early examples of how I'm fairing with this new workflow. I am learning a little bit more each day and really enjoying the process of creating tracks which leverage great synths on the iPad and great instruments and drums on the M+. The combo of the 2 pieces of kit just feels right at my fingertips. I wish I had known how nice the Maschine workflow was, as I would have opted for an MK3 a long time ago, instead of going down the MPC route...which if I'm being honest, always seemed like a good idea, until I really wanted to get in to a state of 'flow' while making music...all too often small things would interrupt my thought process and I'd find myself messing around too often with the software, and less time tweaking my sounds and compositions.
I'm happy to report, the M+ almost disappears while I'm exploring sounds and textures as I try and move them in ways that feel good to my heart. It really feels like an instrument, which I find really satisfying.
Ok, enough woo woo muttering. Here are a couple vids and photos to kick off the thread of 2 Great Devices coming together to create magic. I hope @WillieNegus @dreamrobe @AlaErt and other Maschine+Headz add to this thread with their work...
Experiment 1: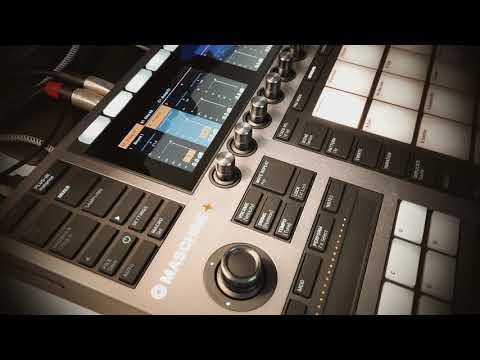 Experiment 2: