Audiobus: Use your music apps together.
What is Audiobus? — Audiobus is an award-winning music app for iPhone and iPad which lets you use your other music apps together. Chain effects on your favourite synth, run the output of apps or Audio Units into an app like GarageBand or Loopy, or select a different audio interface output for each app. Route MIDI between apps — drive a synth from a MIDI sequencer, or add an arpeggiator to your MIDI keyboard — or sync with your external MIDI gear. And control your entire setup from a MIDI controller.
Download on the App Store
Audiobus is the app that makes the rest of your setup better.
K-Devices TTAP released! Full video walkthrough here. Love this app!! WINNERS ANNOUNCED!
TTAP Double Tape Delay/Manipulator by K-Devices: Detailed demo & tutorial for iOS and desktop
The vid also contains a walkthrough of Atmosphere Cloud Reverb towards the end!
Got 2 free codes available for this, details on the youtube page
Really good value too! https://apps.apple.com/us/app/ttap-delay-gone-deep/id1504425941
TTAP by K-Devices is a double tape delay /manipulator with micro-looping capabilities, available as an iOS audio unit and as a Mac plugin. It sounds amazing, I absolutely love it.
In this video, I first apply TTAP in real time to a meditative ambient guitar piece composed and performed by Daniele DeFranchis.
We then go through the app in detail, explaining the use of all the controls. In this section of the app, I use Pagefall's Ioniarics, a midi arpeggiator, to play a patch from OPL synth by Jorge Reales.
Finally, we add the absolutely wonderful Blue Mangoo Atmosphere Cloud app to bring lush chorused and panned reverb into the mix. I finally spend a few minutes explaining how to use this reverb.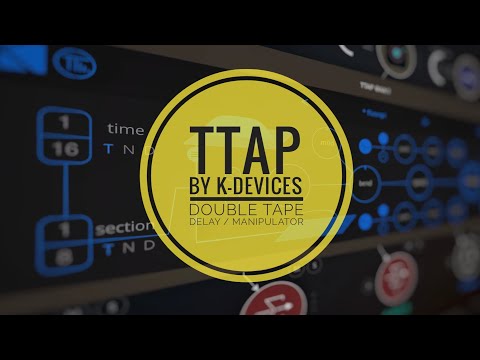 App store description:
TTAP for iOS is an AUv3 delay effect inspired both by adventures with analog tape and by otherworldly textural effects only possible in the digital world. Whether you're looking for bread-and-butter delay sounds, subtle enhancements, or evolving experimental echoes, TTAP fits what you need.
*** Please note: TTAP is an Audio Unit extension (AUv3) – it only works in an AUv3 host app like Garageband, AUM, Cubasis, Modstep, Beatmaker 3, etc... ***
HOW IT WORKS / DESCRIPTION
TTAP is a delay with two buffers. Each buffer features extensive controls for shaping the envelope of the delay sound, with another control set for glitchy pre-feedback repeats and warm pitch-bends.
Inspired by both the classic sounds of tape delays and by experiments in editing and splicing tape, TTAP features a dedicated Section control for determining the maximum length of time of the second buffer. Section also acts as a virtual LFO control, affecting a number of modulation parameters.
Both the Delay Time and Section controls in TTAP can either be synced to your DAW, or run free, providing up to 3.0 seconds of time for each. Try changing the speed while TTAP is running with high feedback for the expanding/contracting doppler sound familiar to any dub lover (or automate and randomize the process using the Bend control).
—
In The Fade
Fade easily between two delay buffers, or jump to using one buffer exclusively with the click of a button.
Glitch and Chance
In addition to the familiar feedback control, TTAP includes controls for randomized Repeats (synced to the Section time) for a glitchier sound. In addition, each of the buffers features a dedicated Reverse switch.
Intuitive Display
In addition to control positions, the animations in TTAP give you essential information such as the mix between buffers, amount of feedback, time gap between buffers, and the envelope for each buffer.
Go By Feel
As part of encouraging more musical and creative applications of WOV, in addition to using symbols for controls, the controls in WOV do not have individual readouts. We encourage you to let your ears determine the right knob positions whenever you can! If you'd like a precise readout, however, you can see/edit it by clicking on any parameter and looking in the upper-right corner of WOV.
Icons
By default, all labels are graphical – for text labels, click the symbols/text label switch in the lower-right had corner.