Audiobus: Use your music apps together.
What is Audiobus? — Audiobus is an award-winning music app for iPhone and iPad which lets you use your other music apps together. Chain effects on your favourite synth, run the output of apps or Audio Units into an app like GarageBand or Loopy, or select a different audio interface output for each app. Route MIDI between apps — drive a synth from a MIDI sequencer, or add an arpeggiator to your MIDI keyboard — or sync with your external MIDI gear. And control your entire setup from a MIDI controller.
Download on the App Store
Audiobus is the app that makes the rest of your setup better.
Pixel Nodes 2 has audio reactive potential
I'm always on the lookout for audio reactive video apps.
Pixel Nodes v2 was released recently and includes some rudimentary capability for controlling parameters via MIDI, mic, audio, and OSC:
I really like the modular approach.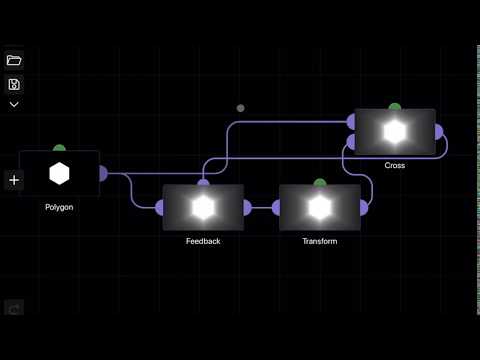 I'm hoping they add support for external audio interfaces and MIDI channel selection, and provide a better way to select and/or learn MIDI messages.
It would also be helpful to add a simple filter (low-pass/high-pass/band-select) to the mic and audio controllers in order to isolate a feature of the audio.