Audiobus: Use your music apps together.
What is Audiobus? — Audiobus is an award-winning music app for iPhone and iPad which lets you use your other music apps together. Chain effects on your favourite synth, run the output of apps or Audio Units into an app like GarageBand or Loopy, or select a different audio interface output for each app. Route MIDI between apps — drive a synth from a MIDI sequencer, or add an arpeggiator to your MIDI keyboard — or sync with your external MIDI gear. And control your entire setup from a MIDI controller.
Download on the App Store
Audiobus is the app that makes the rest of your setup better.
Bit Maestro - Unique AUv3 bit crusher - OUT NOW !
Bit Maestro is now out! - https://apps.apple.com/us/app/bit-maestro/id1497185551?ls=1
Bit Maestro is an AUv3 bit crusher that goes beyond regular bit rate reduction, allowing you to affect and manipulate your sound at the individual bit level. Taking inspiration from the legendary 'OTO Biscuit' it enables you to selectively mute or invert individual bits in your audio signal. As it does this it creates distortions in your waveform, introducing a wide range of harmonics. Bit Maestro pushes this concept even further, allowing you for the first time to even rearrange the order in which the bits are evaluated, reassigning their value and giving rise to waveform distortions not previously seen in any distortion module.
30 second preview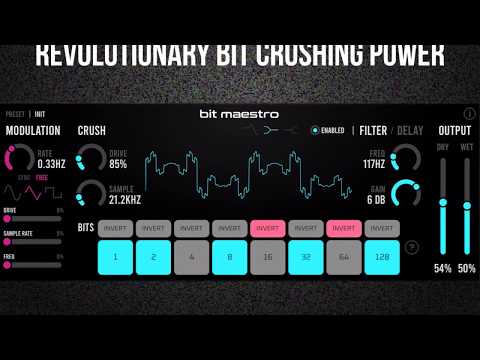 Preset demo