Audiobus: Use your music apps together.
What is Audiobus? — Audiobus is an award-winning music app for iPhone and iPad which lets you use your other music apps together. Chain effects on your favourite synth, run the output of apps or Audio Units into an app like GarageBand or Loopy, or select a different audio interface output for each app. Route MIDI between apps — drive a synth from a MIDI sequencer, or add an arpeggiator to your MIDI keyboard — or sync with your external MIDI gear. And control your entire setup from a MIDI controller.
Download on the App Store
Audiobus is the app that makes the rest of your setup better.
Ipad as an Arranger Keyboard? How to? Your ideas?
Obviously the iPad can be used as a
DAW (Garageband, etc.), Synth, Drummachine or Mixer, etc. This is well known.
But how can you an iPad (with MIDI-keyboard) be used as an arranger keyboard?
I found this video on youtube :
Can just an ipad and keyboard controller replace your arranger keyboard?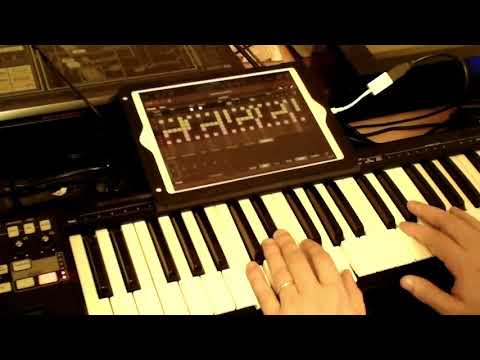 A genius approach using AUM and iStepPolyArp.
Do you have any other brilliant ideas?
How is your approach for an iPad arranger Keyboard?
We are talking about "auto-accompaniment." (e.g. for Chords, Rythm, Bassline, etc.)
The approach should be easy and fun to use.
And no: a looper is no "auto-accompaniment."
What is an arranger keyboard?
Arrangers have evolved into a necessary tool for the professional performing musician, and have even made their way into the studio. The main difference between a workstation and an arranger is that the arranger keyboard has built-in "auto-accompaniment." In other words, with the push of just a few buttons, the keyboard will provide backing tracks that automatically match the style, rhythm, and tempo of what you're playing. This has become a unique tool for composers who have to produce music quickly in a style they may not be familiar with. Even songwriters who don't know how to program drums or play guitar can use the arranger to hear their songs being played by a band, without having to call in musicians. Finally, for the working solo performer, the arranger can add new dimension to your sound by giving you the advantage of sounding like a full band.
copied from sweetwater: https://www.sweetwater.com/insync/keyboard-workstation-buying-guide/