Audiobus: Use your music apps together.
What is Audiobus? — Audiobus is an award-winning music app for iPhone and iPad which lets you use your other music apps together. Chain effects on your favourite synth, run the output of apps or Audio Units into an app like GarageBand or Loopy, or select a different audio interface output for each app. Route MIDI between apps — drive a synth from a MIDI sequencer, or add an arpeggiator to your MIDI keyboard — or sync with your external MIDI gear. And control your entire setup from a MIDI controller.
Download on the App Store
Audiobus is the app that makes the rest of your setup better.
Neo-Soul Keys® Studio 2 Launch Thread
Gospel Musicians releases Neo-Soul Keys® Studio 2 for the iPad with Black Friday Sale of $12.99. We also have all of our apps on sale for 50% off as well for a mega Black Friday sales week. Sales end on Cyber Monday.
Visit: https://neosoulkeys.com/ for more information and sound demos.
Introduction
Neo-Soul Keys® Studio 2 is the next evolution in electric piano sounds and effects from Gospel Musicians, which features a complete architecture overhaul using our new Pure Synth® structure and licensed VKFX effects. Our goal with version 2 was to add more high quality electric pianos, effects, and features by combining the organic sound of samples, along with the flexibility in editing options from a synthesizer. With both of these features, Neo-Soul Keys® Studio 2 will be the most complete electric piano library ever created.
iOS Specific Features:
25 GB (8GB Lossless Compression) Library.
AUv3.
IAA.
Resizable/Scrollable interface in AUv3.
Ability to download specific instruments to save space.
Ability to stream samples and sounds from external SSD drive (exFat Format) using iPadOS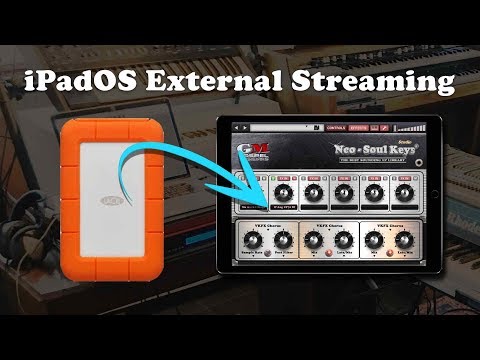 8 New Electric Pianos
Our goal this time around was to represent the cleaner side of the electric piano spectrum. We know all previous versions represented the dirty side, so that is still there as well. We wanted to find rare pianos that represent different and unique nuances in sound, with the goal of extreme playability as the utmost importance. This is why many of our high end piano sounds have up to 1,000 samples, representing up to 30 velocity levels. So now you have both clean and dirty sounds in one library.
We are also used very sophisticated Spectral Isolation techniques for our mechanical effects. By using spectral synthesis, we were able to, more precisely, isolate things such as tines, dirt, hits, clunks, and other mechanical noises from the actual pianos. This way you can add as much mechanical noises and, tines as you wish:
Nu Suitcase - A well tuned and manicured suitcase that represents the clean and beautiful side, with beautiful bell tine noises in the low velocities. This EP was sampled from the DI, suitcase speakers, and mic'd ambient harp. It comes in a DI and fully concatenated stereo version with all of the tonal goodness from each source.
Suitcase 88 - This is another clean suitcase with a very unique and interesting tine attack. This is great for tine lovers.
Nu Mark I Stage - This is a very clean and dark sounding Stage EP. The uniqueness in this piano lies its deep and rich lows with a ton of bark and expression.
Dilluh Stage - Sampled from JFILT from Very Sick Beats who one of the top Neo-Soul Hip-Hop producers on YouTube. This EP is great for Hip-Hop Jazz, Neo-Soul, and that J-Dilla, Roots/Slum vibe. It is clean with well placed quarks, which makes it ideal for that dirty stuff.
Nu Mark V - We updated our Mark V with a super clean and chocolate sound. The expression is deep and barks tremendously.
Mark III Tines - This is for tine lovers who absolutely love the sound of tines, which is reminiscent of a Mark III EK sound.
Nu Wurly - This is a well manicured, maintained, and serviced Wurly piano that can fit with any type of genre.
D'Ang CP70 - There would be no soul, without the sound of recording artist D'Angelo, who often performs live on a Yamaha CP70 Electric Grand. A CP70 sample library is a rare find and could easily cost half the price of this library alone, so we sampled a well manicured and serviced version, which sounds very authentic. The sources sampled were the DI, AMP, and an XY Mic for the ambient tone. The result is a beautifully sampled version that will give you that classic D'Angelo live sound.
New UI Features:
Once-Click preset saving.
Preset and Sound Favorites.
Completely resizable GUI.
Easy to navigate controls.
Beautiful Hi-Res graphic images.
Quick Effect controls to be able to assign effects parameters to front interface.
New Sound Control Features:
Mega Detune - Ability to slightly detune each key group, which immediately makes each sound warmer, phatter and more realistic sounding.
Quick Mute and Solo for each sound for easy mixing.
New Sound selection that allows you to quickly scroll through sounds, search, and mark sounds as favorites.
Auto-Preset Sound Select - When a sound is selected, an optimal programming parameter is chosen, so you don't have to do programming each time.
Ability to load any sound to any slot.
Ability to load the same sound twice for thick stacking and detuning.
Global micro-tuning, transpose, octave, and velocity curve for heavy hands.
Random playmode option to randomly play the sounds for more realism, especially for mechanical effects.
Autosave function to never loose changes on a preset.
Range and Velocity zones with crossfading and different curve options.
Velocity amount control with different volume curve options.
New Effects and Features:
17 New Effects.
Imported all factory VKFX Effects.
Able to read VKFX presets.
Ability to load and save presets from within the actual plugin, so you can choose a sound and a quick effect preset for easy sound creation.
FX presets are shared with standalone plugin and piano library.
Two new algorithmic reverbs and lush impulse reverb with tons of halls, rooms, and spaces, instead of just a Spring Reverb.
New Combo Amp effect.
New Stereo Spread effects.
New Sub Harmonic effect.
New Detuning effect.
New highly customizable rotary effect.
11-Band EQ per sound.
New SVF filter per voice and full filter envelopes for sounds 1-2 for great expression.