Audiobus: Use your music apps together.
What is Audiobus? — Audiobus is an award-winning music app for iPhone and iPad which lets you use your other music apps together. Chain effects on your favourite synth, run the output of apps or Audio Units into an app like GarageBand or Loopy, or select a different audio interface output for each app. Route MIDI between apps — drive a synth from a MIDI sequencer, or add an arpeggiator to your MIDI keyboard — or sync with your external MIDI gear. And control your entire setup from a MIDI controller.
Download on the App Store
Audiobus is the app that makes the rest of your setup better.
Are You familiar with Automatic Drawing
During my college years i was very much a student of the Dadaists and Surrealists. One of the techniques i used a lot during my Studio Art and Design courses was that of the Exquisite Corpse and that of Automatic Drawing/Writing. The whole intent behind these two methods was to free you from the shackles of the literal and rational day to day brain. You know, the daily grind of the monkey brain controlling and dictating everything.
For those in the know, you may also know this as getting into the Flow state...or the Beginners Mind state of Zen philosophy.
Anyhoo, i recently stumbled on this great video which rekindled my joy of the technique: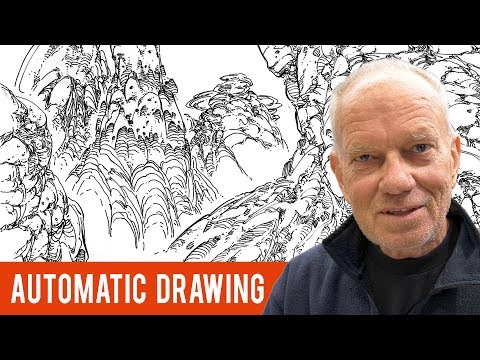 And as luck would have it, after watching the video, i fired up Fresco and had a go at it. It felt good to know that i could get back in to this state...i figure that all this music making of late is just an extension of the whole Automatic Thinking muscle I've developed over the years.
Anyhoo, if you're into this kind of stuff, please contribute to this thread. I know there are a few of us here who wield music notes and pen and ink quite readily, and i figured I'd provoke the group with some fun exercises to help us all be more creative with the art we create...regardless of medium.
Cheers.
Here are a couple images of my mind unshackled 🤔🤪👊🏼™️