Audiobus: Use your music apps together.
What is Audiobus? — Audiobus is an award-winning music app for iPhone and iPad which lets you use your other music apps together. Chain effects on your favourite synth, run the output of apps or Audio Units into an app like GarageBand or Loopy, or select a different audio interface output for each app. Route MIDI between apps — drive a synth from a MIDI sequencer, or add an arpeggiator to your MIDI keyboard — or sync with your external MIDI gear. And control your entire setup from a MIDI controller.
Download on the App Store
Audiobus is the app that makes the rest of your setup better.
APHELIAN 1.1.0 is out ! (with AUv3 support)
Hi! We are proud to announce the Aphelian 1.1.0 release, which includes AUv3 support. The AU3 extension was built from scratch with a new UI concept in mind, to function as a MIDI generator. In this release it features the ARPEGGIATOR MODE, where you can use the geometric metaphor to control arpeggios in a live performance, using a midi keyboard in any AUv3 capable host (Audiobus, AUM, Beatmaker, Cubasis, etc). For the next release we'll add the AU3 SEQUENCER MODE.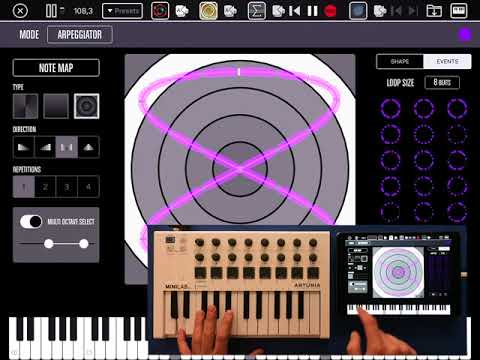 ATTENTION: In the APHELIAN standalone app, we changed the PROJECT SAVE workflow, making it more intuitive and similar to the classic DAW save/open pattern. The AUTOSAVE functionality is still working, but now it goes to the current working buffer.
We also have a new icon
We hope that you enjoy APHELIAN in you favorite AU3 host!
Release week SALE 35% OFF.
https://apps.apple.com/us/app/aphelian/id1435855056