Audiobus: Use your music apps together.
What is Audiobus? — Audiobus is an award-winning music app for iPhone and iPad which lets you use your other music apps together. Chain effects on your favourite synth, run the output of apps or Audio Units into an app like GarageBand or Loopy, or select a different audio interface output for each app. Route MIDI between apps — drive a synth from a MIDI sequencer, or add an arpeggiator to your MIDI keyboard — or sync with your external MIDI gear. And control your entire setup from a MIDI controller.
Download on the App Store
Audiobus is the app that makes the rest of your setup better.
Flow - multi-track midi sequencer/looper for Mozaic - UPDATE w/CC automation, strumming & ratcheting
Hi all, I've just uploaded my little creation to PatchStorage.
https://patchstorage.com/flow/
Flow is a 7-pattern, multi-channel, 16x8 step midi looper & sequencer.
Featuring:
16 steps with 8 subdivisions (parts) each
6 voice polyphony per part
7 patterns, with midi channel configurable per pattern
From 1/32 to 2 bar step length giving 1/2 to 32 bar patterns
Live & step recording
Live recording stores note duration and timing for (almost) exact playback
Individual step / part editing, including voices, probability and duration
Note probability & duration can be set per part
Transpose mode
Patterns play solo or multi - easily toggle patterns ON/OFF for live performance
3 quantization modes for live recording - None (as played), per part, per step
I created Flow because I got so frustrated after having played around with the OP-Z of a friend. The iOS ecosystem has so many great synths, effects, and sequencers but nothing comes even close to the efficient workflow of the OP-Z sequencer.
So, I set out to create a sequencer that facilitates a straightforward workflow - enabling me to control several synths from the same sequencer, and easy manipulation of steps, parts, voices and notes with just my fingers on both iPad and iPhone.
Please check it out and tell me what you think. I've versioned it 1.0, but that might be a bit optimistic as I'm sure there are still bugs left to iron out.
Apologies for the terrible beat in the intro video.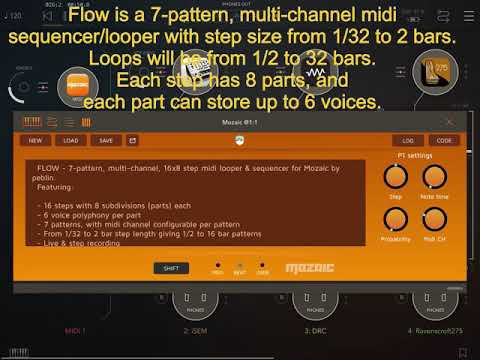 Many thanks to @brambos for creating the absolutely epic Mozaic!