Audiobus: Use your music apps together.
What is Audiobus? — Audiobus is an award-winning music app for iPhone and iPad which lets you use your other music apps together. Chain effects on your favourite synth, run the output of apps or Audio Units into an app like GarageBand or Loopy, or select a different audio interface output for each app. Route MIDI between apps — drive a synth from a MIDI sequencer, or add an arpeggiator to your MIDI keyboard — or sync with your external MIDI gear. And control your entire setup from a MIDI controller.
Download on the App Store
Audiobus is the app that makes the rest of your setup better.
Mozaic Script: Toggle Channels on Bar Divisions (demo video, script and session download)
Live-jam song arrangement script. Pads mute/unmute pattern fed on different midi channels in sync to the hosts bar divisions.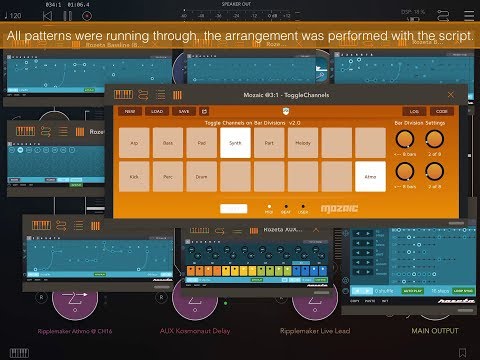 Usage:
You can setup pad labels when the host is stopped using the shift button. When host play is started, the inititally lit channels will be playing. Pressing a pad queues a toggle of that channel to the next bar division currently dialed in with the knob right of the pads. In that way the toggles keep in sync with the generators that are repeating every 1/2/4/8/16 bars.
The current subdivisions are visualized by the stepping of the knobs on the right. In addition you can configure pad-flashing to show the current position in the 16th grid on HELP view.
.
Prerequirements:
* Input midi generators fed to the script need to send on different midi output channels
* Instruments fed by the script need use midi input filters to listen only to a specific channel
* See Midi routing for multi midi input processing plugins on the wiki
.
Mozaic script: https://patchstorage.com/toggle-channels-on-bar-divisions/
AUM session: https://drive.google.com/file/d/1sFMCdE66GU9XL-MONK2SHP67gG5p91kT