Audiobus: Use your music apps together.
What is Audiobus? — Audiobus is an award-winning music app for iPhone and iPad which lets you use your other music apps together. Chain effects on your favourite synth, run the output of apps or Audio Units into an app like GarageBand or Loopy, or select a different audio interface output for each app. Route MIDI between apps — drive a synth from a MIDI sequencer, or add an arpeggiator to your MIDI keyboard — or sync with your external MIDI gear. And control your entire setup from a MIDI controller.
Download on the App Store
Audiobus is the app that makes the rest of your setup better.
hypnopad's "Clear Dream"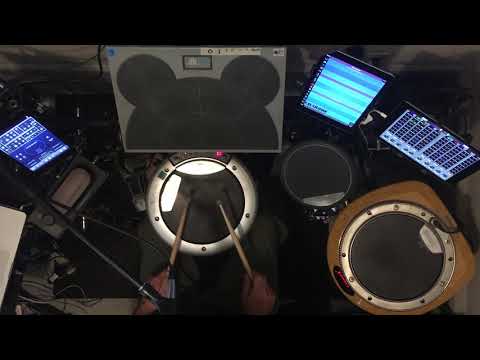 This one is in 6/8
iPad mini(left) is running Impaktor which is triggered by the small black pad. It is set to an appropriate scale and goes up the scale in response to loudness.
The middle iPad is running Thumbjam and is taking audio from the mic and converting it into MIDI. It is also set to an appropriate scale and my vocal pitch is (thankfully) quantized.MIDI is then sent to Music IO to send it to my MacBook Pro via lightning cable.
Right hand iPad is running a MIDI converter I made in MidiDesigner Pro 2. It converts cc info coming from Live into sysex info which the original Wavedrum needs to change parameters(pitch mainly).
My right foot pedal controls numerous things: pitches of the bass line/pad/lead/both wave drums . That single midi note is multiplied/converted/transposed/etc by multiple max for live devices.