Audiobus: Use your music apps together.
What is Audiobus? — Audiobus is an award-winning music app for iPhone and iPad which lets you use your other music apps together. Chain effects on your favourite synth, run the output of apps or Audio Units into an app like GarageBand or Loopy, or select a different audio interface output for each app. Route MIDI between apps — drive a synth from a MIDI sequencer, or add an arpeggiator to your MIDI keyboard — or sync with your external MIDI gear. And control your entire setup from a MIDI controller.
Download on the App Store
Audiobus is the app that makes the rest of your setup better.
Huge New Sound Kit for NS2!!!
Hey everyone, I just wanted to give ya'll some info on a new Sound Kit I've been working on for NanoStudio 2. It's a trap kit featuring over 300 slate sounds, over 85 808's in obsidian and dozens of additional sounds in obsidian. I aimed for a 'no filler' sound pack. I've spent years dealing with bloat and it just gets in the way of the inspiration. This was built to be a utility for hit making
Here's an overview video of the kit in action: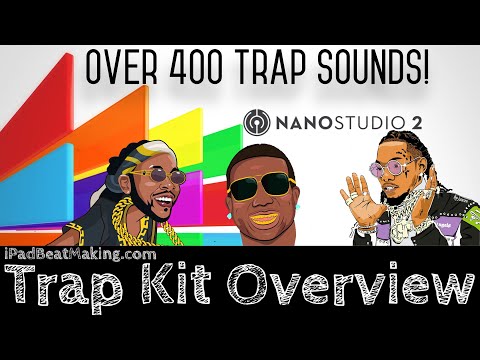 I built this kit with the idea of a desktop computer (and beyond) producer being able to transition into the NS2 environment virtually turnkey and stress free. Pad assignments are in places that you'd expect and consistent across the 10 featured slate kits.
In obsidian I built what i've named an 808 engine which lets you control a myriad of 808 specific parameters from the obsidian keyboard. This is very intuitive and allows you to make any of the 85 base 808's your own! The customizability is infinite!
It has an intro price of $5 off the retail price of $14 ($9 with coupon code 'audiobus1'). I believe is fair for the effort put into such a niche product (Trap Kit) for such a niche product (NS2) in such a niche device (iPad).
Pricing has been an issue for me, because on desktop I know what this would go for (at least $50) but on iPad its obviously different. I've spent days and hours building this and i believe you can download this and get started making great stuff with no time wasted.I really built this with producers in mind who hope to get placements etc. I am confident this kit can do just that!
Thanks for your time, please don't hesitate to reach out with questions, comments, opinions, thoughts etc!
You can download the Kit HERE.