Audiobus: Use your music apps together.
What is Audiobus? — Audiobus is an award-winning music app for iPhone and iPad which lets you use your other music apps together. Chain effects on your favourite synth, run the output of apps or Audio Units into an app like GarageBand or Loopy, or select a different audio interface output for each app. Route MIDI between apps — drive a synth from a MIDI sequencer, or add an arpeggiator to your MIDI keyboard — or sync with your external MIDI gear. And control your entire setup from a MIDI controller.
Download on the App Store
Audiobus is the app that makes the rest of your setup better.
IAA / Link apps freezing issue (Patterning and Fugue Machine, but probably an OS / host issue)
When I was making my last video I kept having an issue where IAA / Link apps would periodically freeze for around 30 seconds (running at 120 bpm).
These were IAA apps hosted in Audiobus that also have Link.
Here's a video showing Fugue Machine (standalone) freezing from about 0:08 until 0:38 and Patterning freezing from about 0:52 until 1:22 (these were two separate takes):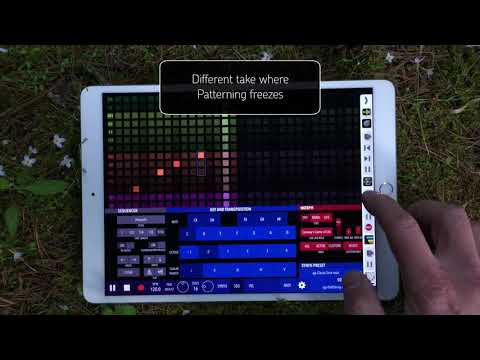 Not sure whether it's IAA, Link, or something else, but I have been having an issue with AUFX Push where the side chain would emit a harsh buzz after about 8 minutes playing and stop working. Alerting @j_liljedahl he said it appeared to be a bug in iOS that interrupts the audio session after a while, for no apparent reason. He mentioned having a workaround, but there were some other IAA connectivity issues....
At the time I did a hard and soft reboot and still had the issue.
Wondering if anyone else has experienced this, or has any insight into whether this temporary freezing is related to the IAA issue seen with AUFX Push? Never had this issue before, then on iOS 12 I've been seeing this somewhat frequently.
Running iOS 12.1 on an iPad Pro 10.5"
IAA apps hosted in Audiobus 2 @Michael (it ran better than AB3 when it first came out and I never changed
)
Feeding into AUM
Affected apps:
Patterning @benkamen
Fugue Machine in standalone mode (so I have access to the Play button) @Alexandernaut