Demo of Fugue Machine MIDI Note to Program Change "Transposing" using mfxConvert
A quick demo of using MIDI Notes converted to Program Change messages to simulate remote control of transposition in Fugue Machine.
From this thread there were a few requests for how to have remote control of Fugue Machine (FM) transposition. Unfortunately, FM only responds to Program Changes (PC) to select patterns. However, it's possible to fake transposing by setting up a bunch of patterns with different transpositions in advance and then triggering those by PC.
The trick here is using MIDI notes that are converted to Program Change messages so you're not limited to just devices and apps that can send Program Changes. Since it is just notes, this means you can use anything that sends notes to control it; including sequencers, arpeggiators, even Fugue Machine itself!
An extremely simple idea, but I had never gotten around to trying it; hence this demo. It works surprisingly well and provides another method of control over this very playable sequencer.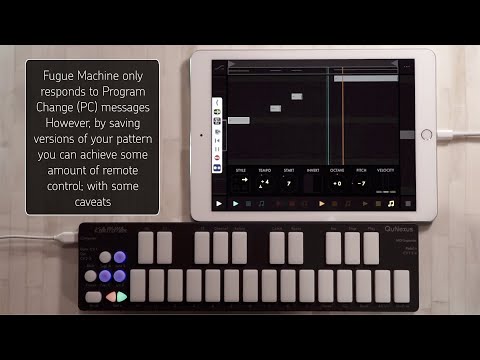 MIDI notes from the QuNexus are converted to Program Change messages by mfxConvert (thank you @audeonic and @discchord!)
Sound source are iSEM, Zeeon, Lorentz and Mersenne being controlled by Rozeta LFO and processed by Dubstation, RE-1 and Stereo Designer.
Apps hosted in Audiobus and AUM.