iOS SunVox FX Audiobus 3 Tutorial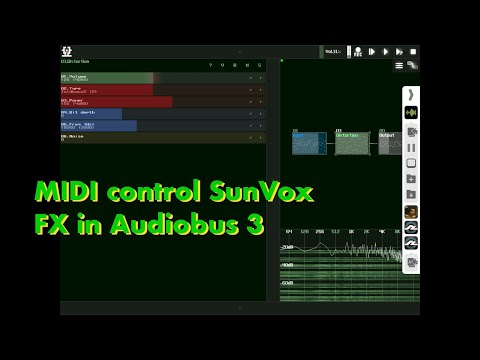 A tutorial on how to use SunVox's built-in effects while it's hosted in Audiobus 3 and controlled via MIDI sent to SunVox from Rozeta LFO setup on the MIDI page of Audiobus 3. Be sure to open and setup Audiobus 3 first, then manually open SunVox, and follow the instructions in the video. Here's the Audiobus 3 preset SunVoxMIDIcntrlFx to get you started.
This method uses MIDI routed to SunVox. It doesn't use the SunVox tracker or any hex entry.
The method can be used to control SunVox effect parameters with MIDI hardware or MIDI Bluetooth routed into SunVox in lieu of Rozeta LFO MIDI routed into SunVox.
Be sure you touch the first module in SunVox and then while still holding it, touch the second module you want to connect it to. This must be done in the order you want the audio to be routed within SunVox. To remove a connection, repeat the above procedure.
There are a multitude of effects in SunVox which is a very efficient app in terms of how much DSP power it requires. The video was created on an iPad Mini 2.