Audiobus: Use your music apps together.
What is Audiobus? — Audiobus is an award-winning music app for iPhone and iPad which lets you use your other music apps together. Chain effects on your favourite synth, run the output of apps or Audio Units into an app like GarageBand or Loopy, or select a different audio interface output for each app. Route MIDI between apps — drive a synth from a MIDI sequencer, or add an arpeggiator to your MIDI keyboard — or sync with your external MIDI gear. And control your entire setup from a MIDI controller.
Download on the App Store
Audiobus is the app that makes the rest of your setup better.
StageLight sfz Tutorial
Here's a brief screen recording of how to import an sfz file into StageLight.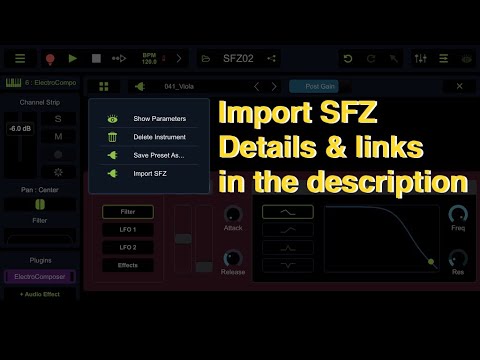 The description in the YouTube video has instructions and links that will be useful which I'm also updating.
You can place the sfz files and folders with your samples in your sfz user folder inside of StageLight via the Files app.
If you download a compressed file for your SFZ, there are two components, the sfz file itself and the collection of samples referred to in the sfz file. They're usually compressed together in one file.
This app will uncompress zip and tar files plus other formats.
iZip - Zip Unzip Unrar Tool by ComcSoft Corporation
You may end up needing to create a folder for your sfz file and samples after they've been decompressed to keep things tidy. In the video, there's a collection of different types of sfz files (e.g. bass, strings, percussion). The sfz files are outside of the samples folder which has the same name as the sfz to avoid confusion
I've posted this question on the StageLight forum too and will post any additional information I discover.
Thank you in advance for any assistance!