Audiobus: Use your music apps together.
What is Audiobus? — Audiobus is an award-winning music app for iPhone and iPad which lets you use your other music apps together. Chain effects on your favourite synth, run the output of apps or Audio Units into an app like GarageBand or Loopy, or select a different audio interface output for each app. Route MIDI between apps — drive a synth from a MIDI sequencer, or add an arpeggiator to your MIDI keyboard — or sync with your external MIDI gear. And control your entire setup from a MIDI controller.
Download on the App Store
Audiobus is the app that makes the rest of your setup better.
Introducing Audiobus 3.1
Today I'm rather excited to share the fruits of the last several months' work: Audiobus 3.1! This is a free update that introduces a ton of new features.
Here's a video I made that takes you through what's new: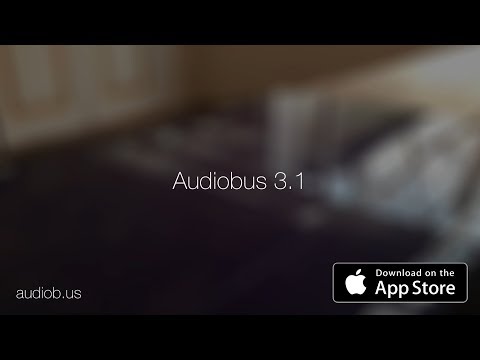 In particular, Audio Units get a bunch of love in this version. AUs that support outputting MIDI will now appear in the MIDI Input and Effect ports as appropriate, and they're super easy and fun to use. You can see the full list of AU MIDI Inputs and Effects over on the Compatible Apps directory, which now also includes a complete list of all Audio Units. It's all made even better by support for full-screen Audio Units, and factory preset support.
And if you've got a USB audio interface, you'll be happy to hear you can now use Audiobus to send audio out to any output channels, including simultaneously sending to the built-in headphone port if you turn on Multiroute Audio in settings.
This is the full list of new stuff:
Audio Unit MIDI out and MIDI effects. Now Audio Units can be put in the MIDI Input and Effect positions.
Support for full-screen Audio Unit views. Supporting Audio Units now open in full-screen. A new expand/contract view button toggles the keyboard and view mode.
Support for Audio Unit factory presets, with a new selector above the keyboard.
Multi-channel output support: Send different audio streams to different output channels. And with Multiroute Audio enabled in Settings, send separate audio to the headphones and a plugged-in USB audio interface.
Bluetooth MIDI support.
Effect reordering via drag-and-drop.
Inter-App Audio transport synchronization.
UI design overhaul.
iOS 9 support.
CPU utilisation indicator.
Lots and lots of other improvements.
Hope you enjoy it!