Audiobus: Use your music apps together.
What is Audiobus? — Audiobus is an award-winning music app for iPhone and iPad which lets you use your other music apps together. Chain effects on your favourite synth, run the output of apps or Audio Units into an app like GarageBand or Loopy, or select a different audio interface output for each app. Route MIDI between apps — drive a synth from a MIDI sequencer, or add an arpeggiator to your MIDI keyboard — or sync with your external MIDI gear. And control your entire setup from a MIDI controller.
Download on the App Store
Audiobus is the app that makes the rest of your setup better.
MPE on iOS
So, who else is into MPE?
(The emerging standard, aka "MIDI Polyphonic Expression", previously called "Multidimensional Polyphonic Expression"…)
Had seen that one (and discussed it with other Eigenharp owners). But it doesn't have as many iOS apps as the LinnStrument recommendations.
In fact, both of them miss AC Sabre which added MPE earlier this month. (Wonder what @RUST( i )K makes of that…)
The ROLI guides are relatively useful. Not that it's difficult to understand how to make a synth or DAW play nicely with MPE devices. But checking on these things before getting the app helps in understanding what can be done with each of them.
As for what will happen to MPE, my strange analogy is that it's the musical equivalent of what HTML5 was before the W3C formally adopted it. It's an incomplete analogy (like most analogies, which is part of the reason people love analogue devices), but it helps me think about the standardization process. It's becoming a de facto standard for expressiveness in electronic music (like Ableton Link has become the de facto standard for synchronization). And it's emerged from manufacturers themselves, as a way to solve a perceived problem. It's not something which has been mandated from above and it's not yet become fully ratified. It's also a bit kludgy. But, overall, it works really well to extend MIDI into new territory.
This JUCE/ADC session helps put things in perspective: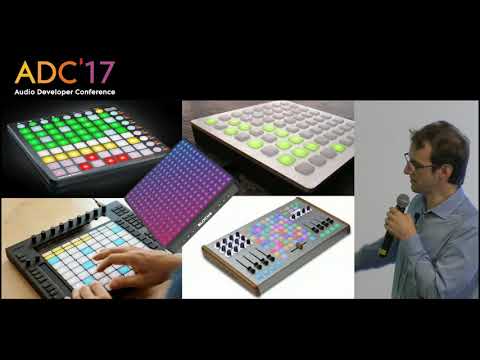 To my mind, iOS apps can play a rather important role in the way MPE gets used, especially with those apps which act as controllers (like ThumbJam and GeoShred). In a way, you don't need to have any kind of dedicated MPE hardware to get into this kind of expressiveness. At the same time, the fun of using a hardware controller meant for polyphonic expression is still a bit hard to convey in software on a 2D touchscreen (if the next iPad supports 3D Touch, we might get deeper support for this kind of control; really fun to use in ThumbJam, including with MPE desktop softsynths like Equator through IDAM).
So, here's the Roger Linn list of iOS apps supporting MPE (with AC Sabre added, along with ROLI Play which just came out):
Air Craft: AC Sabre (iPhone controller)
Apple: GarageBand (Universal pseudo-DAW)
Christophe Duquesne: SpringSound (Universal synth, physical modelling)
Jesper Nordin: Gestrument (Universal controller)
KV331 Audio: Synthmaster Player (Universal synth, playing patches from the desktop version)
Moog Music: Model 15 Modular (Universal virtual modular synth), AniMoog (iPad and iPhone wavetable-like "anisotropic" synth)
Ngo Minh Ngoc: iFretless Bass, iFretless Brass, iFretless Sax, iFretless Guitar (Universal instrument emulation romplers)
One Red Dog Media: Arctic ProSynth (iPad synth, virtual analog)
PPG Apps: WaveGenerator, WaveMapper & Infinite (iPad wavetable synths)
ROLI: Seaboard 5D (Universal Equator-based synth), Noise (Universal sequencer and synth

which only accepts ROLI devices

EDIT: which works as an AU plugin, so also accepts other devices) , ROLI Play (Universal, introduction to the Lightpad Block)
Sonosaurus: ThumbJam, DrumJam (Universal samplers)
Wizdom Music: GeoShred, Geo Synthesizer, SampleWiz (Universal synths, physical modelling)
(So 23 apps supporting MPE in one way or another. And, depending on whether or not you count ROLI NOISE and Play, that's between 19 and 21 expressive synths, by my count. Which is a bit more than what @Wrlds2ndBstGeoshredr counted. Maybe we define things differently?)
Most of the synths are controllers as well. Again, ThumbJam is a really neat example, as the approach to control is quite unique. A couple of them use an interface reminiscent of plucked string instruments, including iFretless Brass, for some reason. (The others are the Wizdom Music apps and some virtual instruments in GarageBand).
To me, this is the beginning a pretty healthy ecosystem.
At this point, the original Lightpad Block is still the least expensive hardware MPE controller out there, and it has special support on iOS (though some features are only available on macOS and Windows). Though it might not be the right device for most people, using that Block through Bluetooth MIDI on an iPhone or iPad is a really neat way to explore MPE.
Really wish my Eigenharp Pico could connect directly to my iOS devices, but IDAM makes it all much easier to integrate for those of us with a macOS device.
So, who else is playing with MPE on iOS devices?