Audiobus: Use your music apps together.
What is Audiobus? — Audiobus is an award-winning music app for iPhone and iPad which lets you use your other music apps together. Chain effects on your favourite synth, run the output of apps or Audio Units into an app like GarageBand or Loopy, or select a different audio interface output for each app. Route MIDI between apps — drive a synth from a MIDI sequencer, or add an arpeggiator to your MIDI keyboard — or sync with your external MIDI gear. And control your entire setup from a MIDI controller.
Download on the App Store
Audiobus is the app that makes the rest of your setup better.
MODSTEP Tutorial. MultiOut Ruismaker Drumrack built with AUM,Ab3 and Midiflow Scales. PRESETS INSIDE
Hey guys. thought i'd share a video to show how this is done. mind you its not my best work
since i actually recorded it as i was experimenting myself.
End result is an 8-out Ruismaker drumrack triggered by a single Clip inside modstep.

You can effect each layer separately (Pan,volume,reverb,distortion,etc) and also apply processing to the entire rack in the Drum bus. You can also load presets per layer to smash your own or the presets that came with Ruismaker to make new drumkits in seconds.
You can see the entire video of me building it here:-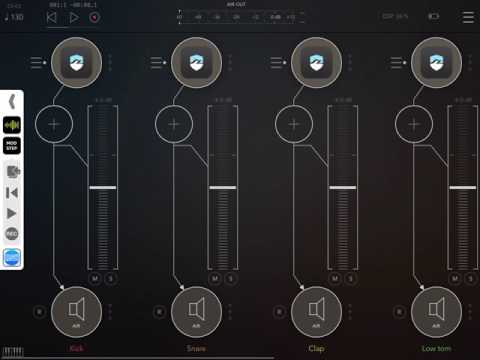 For those that find the video too confusing do not worry. i come bearing AB3 Presets!
There are 2 versions here.
1) Modstep with Ab3 midi:- Audiobus preset 'Ruismaker Multi Drumrack AB3': http://preset.audiob.us/t9KOCWqmkrAM3Yr
2) Modstep using Mf Adapter:- Audiobus preset 'Ruismaker Multi Drumrack MF Adapter': http://preset.audiob.us/gdn3f5YTphVt4sf
Please make sure that your Ruismaker is set to the default Black notes only setting. If you changed it to use GM mapping you will have to change it back to the default.
The Ab3 version is pretty plug and play. Just make sure track 1 is set to drumkit mode in modstep.
For the MF adapter version you also need to set track 1's midi out to Mf adapter port 1.
Have fun with your new Multi-out Ruismaker!
Much Love to @brambos for making such an excellent drum AUx. 8 instances and it barely crosses 25% on an Air2. Also mucho respect to @JohannesD for making the excellent midiflow filters and adapter that I abuse a ton in here

can't wait to use this rack on my 12.9 pro2 when i get it