Workflow Tutorial Videos
Hey everybody, just a reminder....I will be recording some video tutorials on workflow and app management for iOS musicians wanting to optimize their production in making studio quality tracks entirely on iPad or IPhone. The major influences being Audiobus, Multitrack DAW, Beatmaker 2, Drums XD, DrumJam, and how to incorporate the use of Audiobus with apps that don't support it yet. For those of you who don't know me, here's a brief bio:
Derek Buddemeyer (budd-ē-myer) is a hard rock guitarist/instrumental musician born in Kansas City, Missouri. At the age of 5, he moved to San Jose, California. Early influences were The Beach Boys, Hall & Oats, and Barbara Streisand...some of the only music in the house growing up. At age 14, a new discovery was made....Van Halen, Def Leppard, and Stryper. The music was driving and raw...inspiring him to buy his first guitar at age 15. A short while later, he moved to Southern California, where his main musical influences included George Lynch (Dokken/Lynch Mob), RATT, Warrant, White Lion, Scorpions, Steve Vai, and Skid Row, just to name a few. He also began filling his head with the likes of Jason Becker/Marty Friedman from Cacophony, Metallica, Megadeth, Testament, Anthrax, Overkill, and other heavier artists.
Through the years, Derek has developed his own style of melodic hard rock, filled with edgy, pop-metal guitar rhythms, emotional soloing, and the occasional piano/synth-based ballads. The result being a rich, full sound with enough variety to please just about anyone.
Derek Buddemeyer was signed to Down Boys Records (owned by Jerry Dixon and Erik Turner of the band Warrant) in March of 2012 and released his debut album "Afterthoughts". All song titles were produced, mixed and mastered in his home studio. Derek uses JamUp Pro (iPhone, iPad, iPod touch) for all his amp and effects for guitar and bass.
Derek is now concentrating his efforts on writing music for television and film. A sophomore album is in the works (to be released on Lawsuit Pending Records) and promises to be a fast ride with loud guitars and lots of attitude....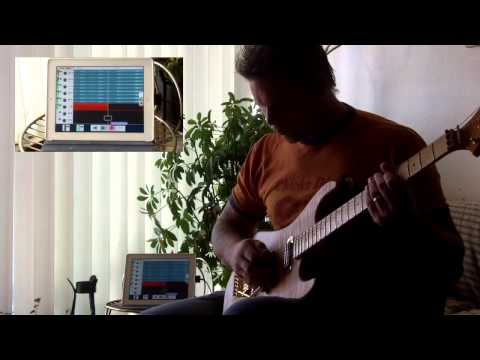 Any questions, feel free to contact me here:
https://www.facebook.com/Buddemeyer72
https://www.facebook.com/DerekBuddemeyerFanPage
http://www.reverbnation.com/derekbuddemeyer
http://www.twitter.com/buddemeyer72