Audiobus: Use your music apps together.
What is Audiobus? — Audiobus is an award-winning music app for iPhone and iPad which lets you use your other music apps together. Chain effects on your favourite synth, run the output of apps or Audio Units into an app like GarageBand or Loopy, or select a different audio interface output for each app. Route MIDI between apps — drive a synth from a MIDI sequencer, or add an arpeggiator to your MIDI keyboard — or sync with your external MIDI gear. And control your entire setup from a MIDI controller.
Download on the App Store
Audiobus is the app that makes the rest of your setup better.
Part Of A Ring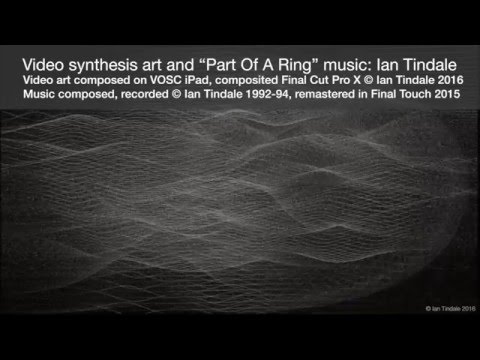 It's my latest video synthesiser art — the second this February. As before, the video clips were made on my iPad in VOSC using some further patches I created over the past week or so. As before, the music is not iPad created (it's the first five minutes of a track called "Part Of A Ring", which I made in the early mid 1990s, on a much reduced remaining gear setup of Alesis MMT-8 + HR16B, a single Oberheim Matrix 1000, Tascam 424 and DAT — there's some authentic bit crunch toward the end, from DAT tape damage, but I left it in because bit crunch is trendy now)). The music was mastered in Final Touch on my iPad.