Audiobus: Use your music apps together.
What is Audiobus? — Audiobus is an award-winning music app for iPhone and iPad which lets you use your other music apps together. Chain effects on your favourite synth, run the output of apps or Audio Units into an app like GarageBand or Loopy, or select a different audio interface output for each app. Route MIDI between apps — drive a synth from a MIDI sequencer, or add an arpeggiator to your MIDI keyboard — or sync with your external MIDI gear. And control your entire setup from a MIDI controller.
Download on the App Store
Audiobus is the app that makes the rest of your setup better.
DGS 2015/12/11 Live Ambient Session "Reflection"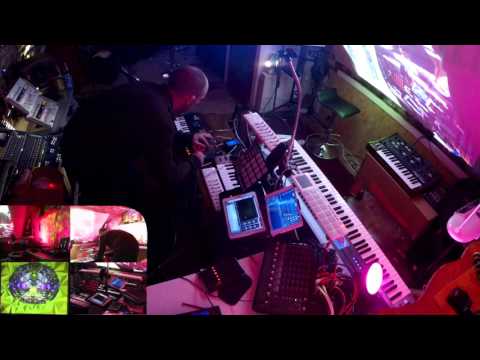 Der goldene Schnitt
Live Ambient Session
Reflection 1
Friday night 2015/12/12
First Session with the good old Nanostudio, my first DAW on the iPhone and still one of the pearls in the MusicApps Universe.
Thx to Matt the Developer of Nanostudio from Blipinteractive
http://www.blipinteractive.co.uk/
And with my bread and butter apps Drumjam & Thumbjam, Animoog, Audiobus, Loopy DJay2
Recycled from the moment & from different sources....:
Thx to Jan Gilhooly
https://sites.google.com/site/jangilhooley/mymusic/experiments
Reused two of his songs from his first completed album of music made in NanoStudio all released under a Creative Commons licence in 2011. You can download the Nanostudio ProjectFiles .NSP there, great, thx jan ;-)
Apps he used:
Nanostudio, Thumbjam, Fairlight CMI, Argon, Ellotron, Ampitude
Song 1: reflections_on_past_dreams
Song 2: serenitys_breeze
The Vocals and the Visuals down in the left corner come from:
Jonathan Quintin

Sacred geometry is the ancient art, science and philosophy of space and proportion. It addresses the laws of creation
and the inner workings of nature. It has been used by civilizations around the world for thousands of years as a way of
connecting with the harmony of Universal Order.
New Zealand artist and cosmologist Jonathan Quintin takes his audience on a visual journey beyond the veil to reveal
a profound order and sublime beauty that exists on the archetypal planes of creation. He shows how sacred geometry
can help us move in harmony with the changes rather than be overwhelmed by them.
Thx Jonathan for your passion too.....
Its one of the pieces in my life which i believe its "true" and it makes "sense"
My Projects and works under
Der golden Schnitt engl. the golden cut
are influenced by these kind of elements, the harmony and the resonance and the noise of course ;-)